Sophomore Spotlight: Chuck L, Alicia K, Samantha D, Sebastian V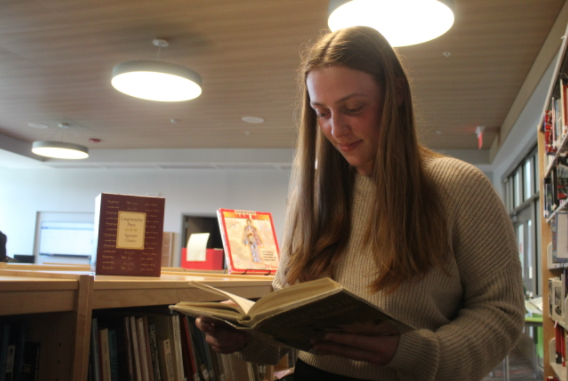 The 2021-2022 school year marks the first full year of high school for the class of 2024. Let's take a look at some remarkable sophomores!
   Charles Luarasi, commonly nicknamed Chuck, is a current athlete and video producer at Holbrook Middle-High School. He's currently a quarterback and long snapper for football, while also playing in the center field and first base during baseball. On the topic of sports, Chuck's favorite memory of the school year was the return of the football season. He quotes, "Coming back, having the first winning record in a very long time for the football season." This first full year of in-person learning has made it harder for him to adapt, but he finds that he's made the most memories within this year alone rather than others. But in his free time, he's mostly making movies/documentaries, editing other's music, and making music with his two bands. In the future, Chuck plans on attending a school that specializes in journalism or communications. He states that he sees himself working on short films/documentaries/movie sets. He looks forward to working in film, and eventually taking a lead role in the entertainment industry.
   Alicia Kilian is a sophomore with a lot on her plate. In addition to partaking in Civics and being the Vice President of class of 2024, she hopes to join the Mock Trial team next school year. She's a dedicated cheerleader and also runs the 100-meter race on the HMHS track team. Excluding school she enjoys yoga, reading, and watching Netflix. Her favorite shows include JoJo's Bizarre Adventure and Cowboy Bebop. Alicia disagrees with the misconception that sophomore year is the "forgotten" year and thinks it has been rather memorable. She enjoyed school this year, now that it is fully in person and she has classes with all her friends. After she graduates she wants to go to college for something in psychology or human science. "In ten years, I see myself traveling in places beyond Massachusetts, with a well-paying job". 
   Samantha Dedos is HMHS' very own Javelin captain. In addition to javelin, she also runs the 800-meter race and is an outside defender for the HMHS varsity soccer team. As well as sports, Sam also enjoys playing guitar, running, and sewing. She recalls this past school year as "memorable." "This has actually been our first "normal" school year in a while but something different about this school year would be Ms.McCann going on maternity leave because we had stopped learning for over half the year which was really weird but also nice to have a free period during the day." After high school, Sam plans on going to college and majoring in a versatile major. "I want to figure out what career I want to pursue without being forced into a specific career." In ten years, she sees herself living on her own, with a steady job and a big family. 
   Sebastian Velarde is another HMHS sophomore. He is an athlete and is a part of the HMHS Track and Field team, and is also an avid soccer player. He enjoys playing guitar, making new friendships, and strengthening old friendships. "I feel like I've been able to have made friends that will last a lifetime" Outside of school he enjoys collecting figurines from his favorite TV and book series, playing video games, watching movies, and reading manga. Sebastian has had a great sophomore year. "This year has been awesome. I've been doing amazing in school, got to hang out a lot more with others, and been able to experience a normal year of high school." He says that while he struggled with the cohort system last year, in-person learning has been great. "This has allowed me to thrive with schoolwork and I have been getting top marks each quarter. I am also starting a new job which will be fun. Overall, I have more freedom now than I ever have had before." After high school Sebastian has thoughts about going to college and becoming a doctor. "In ten years  I see myself being a doctor and having a loving family. I get to spend time with friends and enjoy doing the things I enjoy doing now. I have a car and a  house in some nice quiet town." 
   With the school year coming to a close, we look forward to the sophomores becoming upperclassmen next year!