3 Oak Street Light Show
Glenn Godwin Spreads Holiday Cheer in Holbrook
This week, CBN reporters Matthew Messina and Caleb Tobin went to the house of Glenn Godwin, who is best known in Holbrook for his light shows every Halloween and Christmas. Let's check it out. Here's what he had to say:
"I've been doing this for about 10 years now. And what inspired me is that for 25-30 years, I put regular Christmas lights on the house. But I started to see online conversations that people were timing the lights to music, so I wanted to do that. And with the evolution of computers and technology and pixel lights, we're now where we are now where I use computer controlled pixel lights…"
"I've done Christmas and Halloween decorating for about 20 years. I've been doing these light shows now for about 10 years. And yes, I plan on continuing it until (hopefully) one of my grandkids takes over. The difference now is my wife won't let me up on the second floor to put lights up so I have a local company actually come and install lights for me that I can't reach…"
"Every season I have people knock on the door to tell me that they really love the shows up. I'm in 'Everything Holbrook' [on Facebook] so people will send me messages year round asking when the light shows are for both Halloween and Christmas. On non-COVID years we fundraise for local charities and we can get several 1000s of dollars in donations and a lot of times donations are wrapped up in a note you know complimenting us on the shows. The show runs until December 31. We also again run a Halloween show during the month of October which is also very popular."
"I tend to get a new decoration every year and base my Christmas and Halloween themes on that new decoration or decorations. And I have so many decorations now that the yard is actually already filling up. As you'll see, I rotate the decorations, so every year the yard and the decorations look slightly different…"
"Finally, this is a question everybody asks, 'How long does it take me to put the lights up?' Between two and three weeks it takes to put the lights and decorations up and it can take only one or two days to take it down. So in the cold weather. It's really great that I can take everything down in a day or so."
Wow, that was certainly something special really gets Holbrook in the holiday spirit, doesn't it? Feel free to head to 3 Oak Street in Holbrook before December 31st to see Mr. Godwin's incredible lightshow.
Leave a Comment
About the Contributor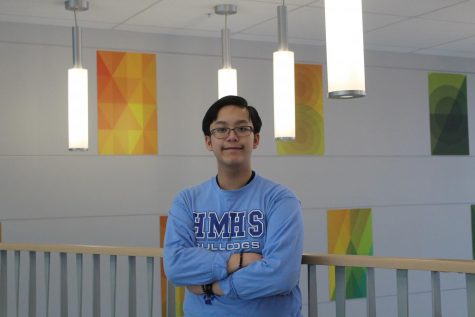 Vinh Nguyen, Video Editor
Vinh Nguyen joined the newspaper club in 2018. His first ever article was a teacher introduction for his algebra teacher, Mr. Bowen. Since then, he has...