WATCH: Kamala Harris, Vice-President of Many Firsts
Ever since April 30, 1789, when John Adam took the oath as the first Vice President of the United States, every vice president of the United States has been male and Caucasian. There have been 45 presidents and not a single deviation from this criterion. However, on January 20, Kamala Harris will become the Vice President of the United States. In the process, she will become both the first person of color and the first female in the vice-presidential position. Breaking barriers in politics is nothing new for Kamala Harris, as she was the first Indian-American and the second African-American woman to serve as a senator.
"I think it's great that she can serve as a role model for young women, African-American women, [and] Asian women," said HMHS teacher Mr. O'Toole. O'Toole believes that Kamala Harris will make a great role model for young women, particularly women from racial minorities. She added, "It's a great sign that we have more diversity in the White House."
It says a lot about the positive direction this country is headed that a woman was voted to be second in command to the President of the United States. Eighth-grader Alyssa Gallello says, "I feel like it's gonna be a slow process, but it still will get better. I think she's really gonna help go [in] the right direction."
HMHS Spanish teacher Ms. McCann is optimistic about Kamala Harris and is glad to see POC representation in the White House. She says, "It's especially exciting for me personally, just because I think about my students and all of you here in the school. This is such a huge thing for you all to see her represented."
In a couple of years, Kamala Harris also has a chance of becoming the 47th President. Joe Biden is 78 years old, making him the oldest president of all time. If he decides to resign or runs into health issues due to his old age, as vice president, Harris would take his place. This, of course, would make her the first female president of the United States.
Congratulations to president-elect Joe Biden and vice president-elect Kamala Harris, and let's hope that their next four years in office are great. In the meantime, we will keep you updated on the latest developments.
Leave a Comment
About the Contributor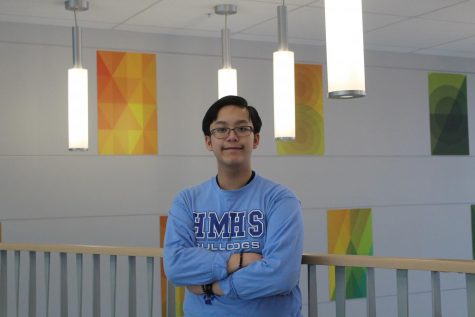 Vinh Nguyen, Video Editor
Vinh Nguyen joined the newspaper club in 2018. His first ever article was a teacher introduction for his algebra teacher, Mr. Bowen. Since then, he has...