Thanksgiving 2020 style
2020 has been a complete and utter dumpster fire so far. Fortunately, it is that time of year again: Families across the nations are once again taking a day to celebrate what they are grateful for. A plump roasted turkey on the table, a feast of gargantuan proportions, and friends and family gathered around the table. Or at least that's how it would normally be.
With the state of the current global pandemic resulting in a rise of COVID-19 cases, those celebrating Thanksgiving will have to make some adjustments. For many, the thought of not celebrating in the usual manner comes as a disappointment, but it's nonetheless necessary in protecting the commonwealth. With so many things remaining uncertain in the world, the best way to approach this situation may seem confusing. That being said, here are a few tips on how to safely celebrate Thanksgiving while COVID-19 ravages the world.
First, it's highly recommended that you celebrate Thanksgiving from the comfort of your own home. Many experts have warned against traveling to visit friends and distant relatives this year. They fear that an asymptomatic person carrying COVID-19 could inadvertently spread the virus to their friends and family, worsening the pandemic in the process. Instead, celebrate this Thanksgiving with the people you live with or hold a virtual gathering with those who you would usually celebrate with.
If you must travel, practice the usual COVID-19 precautions and check travel restrictions before you go. Wear a mask in public spaces and when visiting others, stay at least 6 feet away from others, clean your hands with soap and water or hand sanitizer, and don't touch your face. Make sure to bring plenty of supplies with you, and of course, know when to delay your travel.
If you are having guests this Thanksgiving, take precautions to make the celebration safer for you and your guests. Limit the number of guests you are inviting, and talk to guests beforehand to set expectations for celebrating together. Host a small outdoor meal with friends and family, or if you're staying indoors, make sure to create plenty of airflow into and out of the house. Make sure to clean and disinfect regularly-touched surfaces and items between use. Have guests bring their own food and drinks, or if food is being shared, have one person serve food and use single-use utensils.
For more information, go to the official CDC Celebrating Thanksgiving webpage with tips for celebrating this year.
Whatever you do this Thanksgiving, keep the aforementioned tips in mind and make sure to follow all necessary precautions. Be sure to keep yourself and others safe to make sure that we can celebrate many more normal Thanksgiving feasts in the coming years.
Leave a Comment
About the Contributor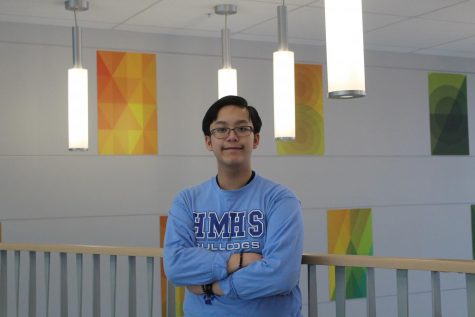 Vinh Nguyen, Video Editor
Vinh Nguyen joined the newspaper club in 2018. His first ever article was a teacher introduction for his algebra teacher, Mr. Bowen. Since then, he has...