New Full Time School Resource Officer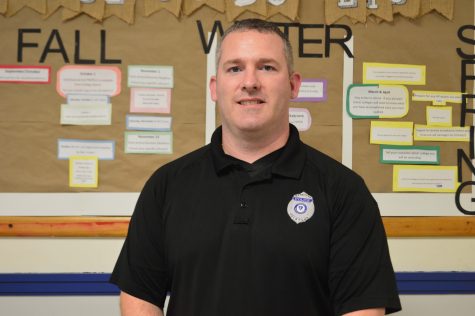 Have you ever wondered why there is a police officer walking around the school building? Well, this year Officer Glover is going to work with Holbrook Public Schools. Officer Glover had been a part-time school officer along with Detective Mitchell for eight years and has a good report and relationship with the staff. Officer Glover have been doing training with the students at South School and the JFK School. He would like to work on many emergency drills, such as lockdowns, fire drills and more to ensure the safety of the students of the Holbrook Public Schools.
Officer Glover is originally from Whitman and is Mrs. Chisholm's son in law. He is happily married with three children. He first started thinking of becoming an officer when he first started working at Cardiac Rehab (a medical program that helps improve the health and well-being of people who have heart problems) and met a police officer who talked about all of work he did. Then, Officer Clover thought it would be a "fun thing to get into," and decided that this was the career he wanted to pursue.
Officer Glover's goal this year is to have an open relationship with everybody. He wants everyone to get used to seeing him and communicating with him whenever they need to. He wants everybody at Holbrook Junior Senior High to feel comfortable to come forward to talk to him if there is ever an issue or problem. Officer Glover is always available to talk and wants every body to know that there is no need to be afraid of him and that he is very trustworthy. He is not a stranger; in fact he is the opposite, he is a member of our community. So next time you see him in the hallways, don't forget to greet him.