Holbrook 84 Movement Chapter Wins Big Recognition
Amy Yip, Managing Editor
June 2, 2020
The 84 movement recently won several awards for the town of Holbrook. A reward that Holbrook won was Most Outstanding Chapter. Additionally, one of Holbrook Middle-High School's teachers, Mrs. Clougher, won the award for Adult Advisor. 
This surprising event was held on a zoom call on Wednesday April 29. 
According to Aaron Cullity, the 84 movement is "a statewide movement of youth preventing tobacco use among youth in MA. 84 stands for the percent of youth who did not smoke (traditional cigarettes) in 2009 when the movement began. 84 chapters around MA educate others about tobacco, advocate for local change with restrictions regarding tobacco, and focus on Big Tobacco's tactics of targeting products to youth, POC, low-income communities, and many other minority groups. I (along with Rachel Cohan) are on the Statewide Leadership Team. The SLT consists of a couple of students from chapters all around MA and works closely with 84 staff to plan events such as Kick Butt's Day and communicate to our own chapters with helpful information."
Aaron also quotes, "We won for being a chapter that has really made a change in our community but also for working hard to get that flavor restriction in the state. We have been to the state house multiple times, advocating and testifying. We have also worked with Senator Keenan, where he has heard our voices and supports us in the fight against tobacco."
About the Writer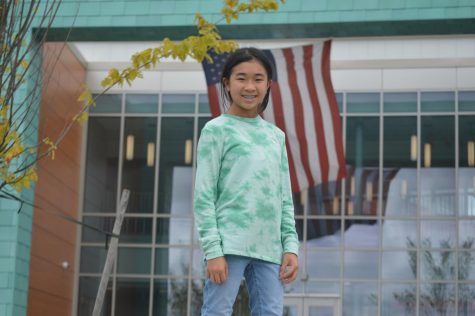 Amy Yip, News Editor
Amy Yip is a seventh-grade student who started writing for the newspaper last year. If you see her after school, she is probably doing work for The Holbrook...