Escape Room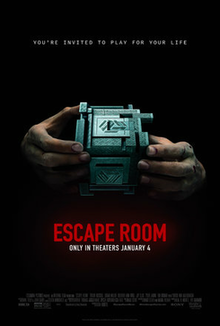 Do you enjoy the rush of adrenaline, when trying to solve your way out?  Do you ever want to experience that feeling? The movie Escape Room might change your mind.
This movie is about six people who get picked to do an escape room. But here's the twist, if you don't escape you die. This thrilling and suspenseful movie is about Zoey, Ben, Jason, Mike, Amanda, and Danny. The film stars Logan Miller, Deborah Ann Woll, Taylor Russell, Tyler Labine, Jay Ellis, and Nik Dodani.
The six protagonists get invited to the escape room by outside people. When they all get to the escape room the door handle comes off. The game has now started.
They all think this is a normal escape room, but things go south when the room starts to get really hot. If the group doesn't think of a way out fast, they would be burned alive! They need to figure out the puzzle to get out. The rest of the rooms are the same way, and sadly killing off each character until the end. Why was it such a dangerous escape room?  Why were they chosen? Who really invited them to play this wicked game?