The Goose Who Wanted an Education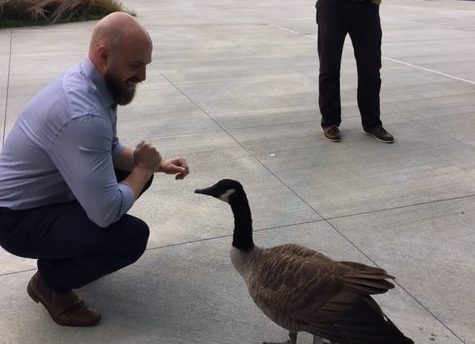 It seems that even geese want an education at Holbrook Middle-High School. On September 26th, a goose was spotted at the school's entrance. It was later discovered that the goose was named Marley and she was a seventh grade student Grace Graziano's pet.
Principal Stevenson said, "When the goose was walking up to me, I thought to myself that birds are afraid of bigger animals. She tried to make herself look bigger, but the goose wasn't intimidated at all." The goose was very kind and friendly, but wasn't frightened by people.
Mr. Welch, the 7th and 8th grade science teacher, was one of the first people to respond to the situation. While he was surprised by the goose, he said, "I wasn't afraid at all. It appeared to be very friendly – she just wanted to come inside."
Mr. Riso, the 10th grade English teacher, also worked to keep the bird out of the building. He joked that the other teachers were jealous of his budding friendship with the goose, saying, "Mr. Welch has a new BFF, but I have proof that the bird is my buddy because I have a half heart necklace." Riso added, "I know that Mr. B and Peps are under the impression that they are my best friends, so they were probably pretty upset."
Grace Graziano, the owner of the goose, told us, "I felt that the students were afraid because geese are very protective of their territory and they usually attack people, but Marley is a very friendly goose who never would hurt anyone."
Marley escaped because the Grazianos let their animals roam free in their yard and decided that they did not want to clip Marley's wing for self defense reasons.
If you ever see a wild animal on the school property, tell an adult, stay away, and don't let it into the building. Even if it has a hall pass.