What's Up With Mrs. O'D's Mic?
With the new building opening up for its second year, many exciting features are being utilized that may not have been working before. Some technological features from last year include the monitors in the hallway, the chromebooks, the language lab and more. However, a number of other forms of technology are just starting to become available to the students and staff of Holbrook Middle High School.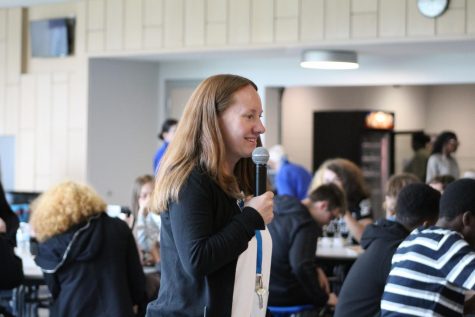 Wait, Mrs. O'Driscoll has a what? Something that has stood out to many students during the past few weeks is Mrs. O'Driscoll's new microphone. Yes– that's right! Ms. O'Driscoll has been carrying a microphone with her during lunches; but why? The microphone is a new feature during all three lunch periods, which Ms. O'Driscoll (Ms. O'D) uses to quiet students down and make her voice heard.

Upon talking with Mrs. O'Driscoll, she revealed that she uses the microphone for various reasons aside from just amplifying her voice. Some of these reasons include giving reminders about trash pick-up, making important announcements and controlling the noise level. "Especially during first lunch!" Mrs. O'Driscoll jokes, referencing the boisterous middle school lunch period.
But why this year? The school has had access to the microphones in the past, however we have never before used them during our lunches.

Late last year, Mrs. O'Driscoll explained that she and Mrs. Stevenson, the school principal, were looking for ways to improve systems and create positive change. When they moved onto the topic of the school lunches, they were specifically looking for ways to improve the atmosphere, along with the behavior in the cafeteria. Eventually, they decided that the microphones would assist in making sure that the faculty's voices are being heard, but without shouting, as yelling has a more negative connotation. This way, students can engage in conversation with their peers in a positive environment.
"I would much rather have the option to remind students about remaining in their seats, picking up their trash, and keeping the noise level down in a calm but firm voice," Ms. O'Driscoll states. "The technology is available," she says, "why not use it?"