Prom: A Night to Remember
Jessica West, Interim Arts & Entertainment Editor
June 1, 2018
It's that season again: Prom. With the help of Ms. Grant, the Class of 2019 was able to plan an amazing event. Shantal Infante won Prom Queen and Jeremiah King won Prom King. The rest of the court was BreAunna White, Katelin Andrews, Sharlanda Colon, Jason Chadwell, Marken Legentus, and Franerick Couamin.
Shantal and Jeremiah didn't expect to be crowned King and Queen. Shantal said, "I was shocked, kind of like a deer in the headlights, but in a good way, of course. It was such a pleasant surprise and probably one of the highlights of my night."
Class President Katelin Andrews agreed. She said, "My favorite part was the venue. I thought it was beautiful and I liked the fact that we had the opportunity to go outside and take pictures."
They held the prom at The Pavilion at Pinehills, decorating it with gold, maroon, and rose gold decorations. Outside of the hall, there was a gazebo, where most people took their photos. There were also tables and couches on the porch, where a lot of people spent their night.
Ms. Grant thought that prom went "very well." She said, "Everyone looked great and the venue and the surrounding golf course were beautiful! We were equally happy that no one tripped down the stairs at Grand March." She adds, "I don't think we would've changed a thing!"
About the Writer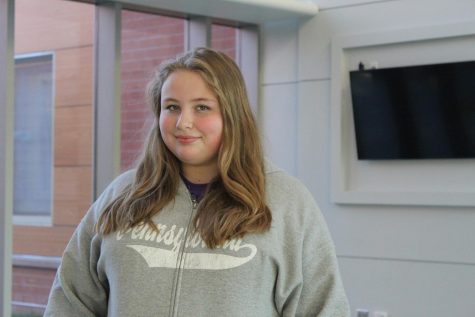 Jessica West, Staff Writer
Jessica West is a freshman and this is her first year writing for The Holbrook Hub. She is very involved in music, and she has participated in drama and...