Boston Students Look to Tufts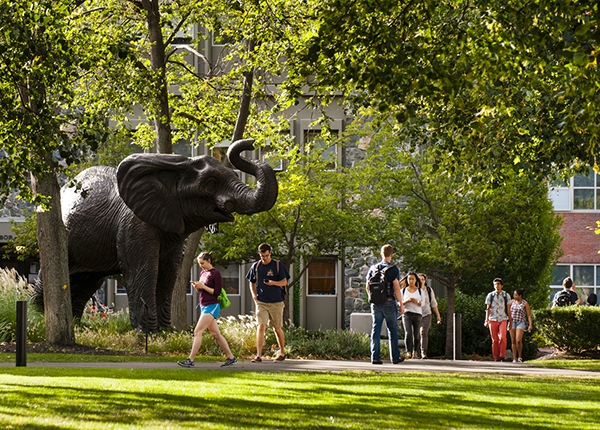 If you're a student at Holbrook Middle-High School interested in pursuing a career in STEM, then you should consider yourself lucky. Living just outside of Boston gives today's students hundreds of opportunities! Top schools like Harvard, Northeastern, MIT, and Brandeis are here – each about an hour away by train. One of the many perks of growing up in Holbrook is that any student can visit any one of these top schools for free. So, when Tufts University announced their STEM open house, I immediately signed up.
Recently, Tufts was ranked 29th in the 2018 edition of Best Colleges, nationally. This school is a private research institute located in Medford, Massachusetts, about a fifteen-minute walk from Davis Square. It's well-known for the combination of a research and liberal arts atmosphere, which is what makes Tufts unique and exciting.

Pulling into the visiting center's parking lot, my mother and I were greeted by a variety of different licenses plates. Chicago, Pennsylvania, Maryland, New Hampshire, and more. Students from all over the country, sometimes all over the world, traveled to see this institution. For example, one student had traveled all the way from Shanghai. How fortunate we are to have the some of the world's greatest research and education opportunities just a car ride away.
The staff began the day with breakfast, registration, and by passing out reusable water bottles for everyone. As the day progressed, an auditorium full of students packed their brains full of information. What is engineering at Tufts, food at Tufts, life at Tufts?

By far, my favorite part of the day was attending mock lectures. Each prospective student received a list of different classes available to them. The first class I chose focused on the real-life advantages and disadvantages of solar energy. The second was about the mathematics behind tomographic data.

One of the benefits of attending Tufts is that each class is open to every student. For example, if you are pursuing your degree in Engineering Psychology, but you are really interested in Middle Eastern studies. Feel free to take a short walk from the College of Engineering to the College of Arts and Sciences on the other side of campus. Personally, I love this concept because it allows for students to expand their knowledge and perspectives. While it may not fill a requirement, there are hundreds of benefits to taking an unrelated class or listening to an "unnecessary" lecture.

As I've said, Tufts is one of many universities in the Boston area offering a unique way to learn. Education is arguably the most important factor in a person's success. With so many possibilities at our fingertips, wouldn't it be a shame if we let it all go to waste?