Civics Club Finding Ways to Make a Difference
The Civics Club is a group of Holbrook Middle High School students focused on helping the community. They are currently planning to help Puerto Rico in the wake of the destruction from Hurricane Maria, but are considering many other projects. 
"
Civics is about service-learning projects."
— Mrs. Mary Clougher
Mrs. Mary Clougher, their advisor, said, "Civics is about service-learning projects." This is helping the community. There are lots of people in Holbrook schools that have family in Puerto Rico. "There is a large number of students with family in Puerto Rico, and we thought it would make a difference and make people feel like they've had an impact," Clougher added. The group will be partnering with Saint John's Episcopal Church to help gather batteries and flashlights. Clougher has also said that the group has created the hashtag #SpreadingLightAndHope to help raise awareness.
The students are still working on planning their initiative for Project Citizen. They will continue working with Boston vs. Bullies, a bullying prevention program. This collaboration began five years ago with the Bulldogs Don't Bully campaign. This year, they get to bring the younger students to the State House, along with older students who already have experience with Project Citizen. This will be helpful because the older kids can give them advice and tell them what it's like.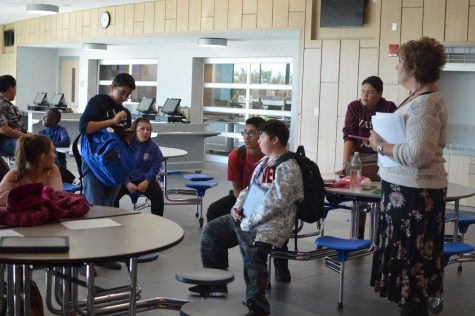 Civics Club is also thinking about smaller projects. They have ideas about exploring the history of the town seal, which many students had questions about. The Holbrook Historical Society has been helping them research this question.
They are also working on a partnership with the Sandy Hook Promise. This would include taking part in a program called "Start with Hello." This campaign draws attention to social isolation within schools, hoping to combat it through trainings and activities. Some student within Holbrook schools already have wristbands that say "start with hello" to help with raising awareness.
All of these projects perfectly align with what Civics Club is about – giving kids a chance to have a voice in their community. It teaches them that even though they are young, they can make a difference.