Success of Last Year's Showcase Leads To Sequel
Presentation Scheduled For Wednesday
After two successful showcases last year, the staff students and administration are preparing for a new showcase to be held Wednesday, December 14th at 6:30.
Here is an article from last year recapping the success of the first showcase.
The Showcase at Conferences
November, 2015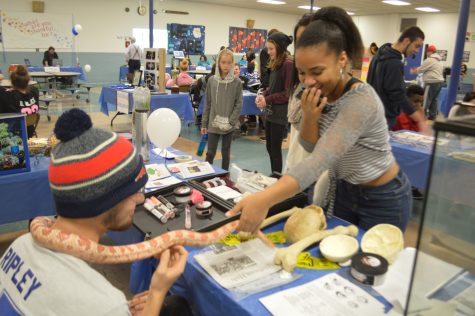 A lot of changes have taken place in the recent school year. Aside from the new principal, new procedures to secure rules and security, and the new school building, Holbrook Junior Senior High School is making its way to becoming the best it could be. This year's parent-teacher conferences were not just face to face meetings to check up on students but with the showcase that was organized, teachers and students were able to show parents what really goes on within the walls of Holbrook High School.
The Showcase was organized in the cafeteria, with tables set to showcase curriculum and extra curricular activities the school offers. The event was prepared by teachers along with their students and the excitement couldn't be more palpable. Students volunteered throughout the day, presenting content and answering questions from parents and visitors. Each club was able to showcase their activities and projects. From the newspaper club, the drama club, and the robotics, it wasn't hard to figure out that the parents and visitors were certainly impressed at the activity and fun the small school had to offer.
The available courses in the high school were certainly not ignored. The school has continuously accelerated in terms of education and has recently moved from a level 2 school to a level 1. This is a huge achievement, not just for the school but for the students and teachers as well. Parents and other visitors were amazed at the curriculars being taught in the school. The range of AP courses that are available for students were made known to parents and were glad to be informed about them and how they are benefiting their kids. The contents that are covered by the Mathematics, English and History Departments have been expanded over the years and parents got a better understanding of how education has changed and what type of things the students are learning.
This year's showcase is the first ever event of its kind to be done in Holbrook High. Throughout the years, the teachers along with the student body were able to grow together and create a meaningful educational environment. We have a lot of things to showcase others and as Bulldogs, we are truly proud to show and tell everybody how far we've come as one.